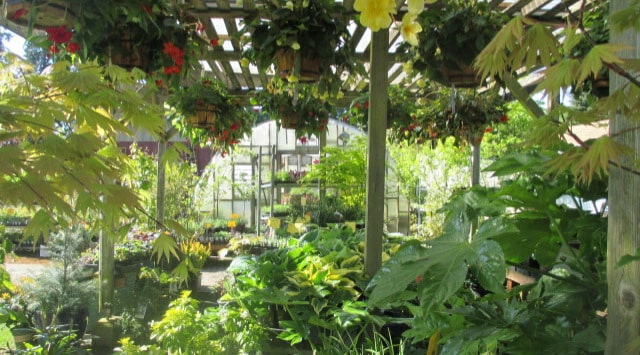 In our nursery:
Roses
Fruit trees 
Rhododendrons
Shrubs
Shade trees
Vegetable starts
Herbs
Perennials
Annuals
Hanging Baskets
Climbers
Ground covers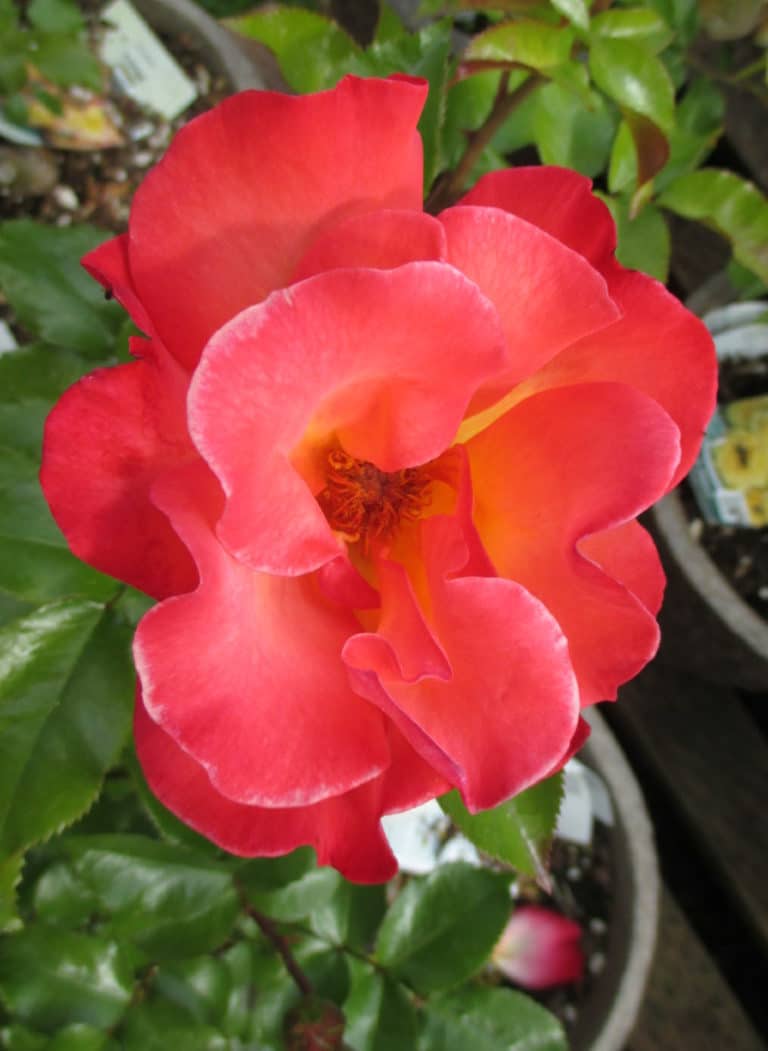 The roses are blooming!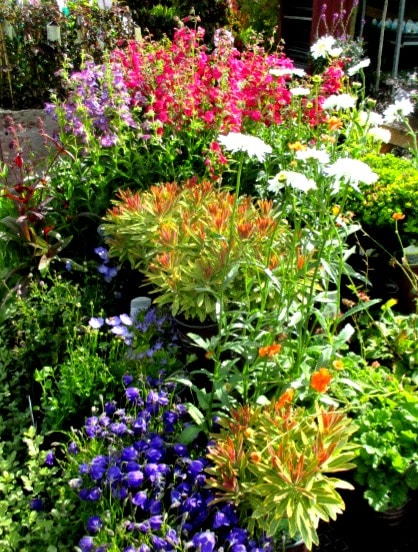 Great color for baskets or planters!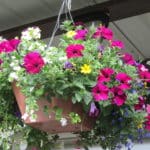 Lots of beautiful baskets!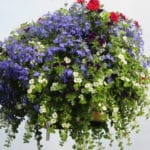 Shade plants! In the Pacific Northwest you need them. So many to choose from!
Water saving trips:
1.  Water Pots in the Afternoon and your vegetable Garden in the Morning – Research shows that the timing of when you water pot plants during the day can have a significant effect on plant growth.
 2.  Avoid evening watering especially on the foliage as night-time temperatures are often inadequate to dry the moisture on the leaves which can encourage some fungal pathogens to establish.
3.  Install a water tank rather than wasting rainwater maximize roof runoff and redirect it for use on your garden.
4.  Save your Cooking Water – If you steam or boil vegetables, save the water rather than tipping it down the sink! Make sure it is cool first.  It is full of nutrients and makes a free fertilizer for watering your plants.
5.  Mulch!  Up to 70% of water can evaporate from the soil on a hot day if you don't have mulch as a protective layer on top.  Mulch is one of the best moisture holding strategies you can employ. Put down compost  to hold moisture in your soil and help retain nutrients where they're needed.
Vegetable starts:
 Vegetable seeds: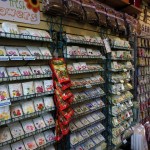 It is not too late to plant from seed, but it depends what it is. Ask! Plant the seeds directly in your garden.  We have territorial seed, Ed Hume, Botanical Interest, Renee and Hudson Valley Seed Library.  The Hudson Valley Seed Library is a small, farm-based seed company celebrating heirloom and open-pollinated garden seeds  and beautiful garden-themed contemporary art. Many of these seeds they produce on their own small farm; the rest they source from other local farmers, farmers in other regions, and from trustworthy wholesale seed houses that are not owned by or affiliated with multi-national biotech companies. They have signed the Safe Seed Pledge, and they adhere to Vandana Shiva's Declaration of Seed Freedom. As of May 2013, they are both a Certified organic farm and a certified organic handler.

Dwarf Conifers
Conifers are a vast and diverse group of plants spanning in size from giant forest trees to tiny miniatures. Conifers also provide an exciting array of color from the darkest greens through the brightest yellows, blues and even red tones. The flowering parts of many conifers (their young male and female cones) can add seasonal interest with their colors ranging from bright scarlet reds, pinks and purples to soft shades of green, yellow and orange.
Blueberries
A Northwest garden's got to have them! Some Blueberries are balled and burlapped, and lots come in pots throughout the year. They love our acid soils, they're irresistible fresh and easy to freeze, and a Super Food! They have flaming fall colors and beautiful winter branching for your landscape. Top Hat is sweet as can be in a container. Blueberries are top on our list of edible landscape plants!