We stock organic feed.
We have organic and other feed available from Land O'Lakes, Purina Feeds and, Scratch and Peck and Medesto Milling we also carry Haystack Feed and LMF Feed
Ordering feed wholesale
If you have a farm and have a business license you can order your feed or fertilizer wholesale. See the guidelines attached here.
Organic Chicken Feed
Soy free, whole grain feeds for your chicken friends. Non-GMO and unprocessed grains sourced directly from local farmers!
Organic Pig Feed
Hog feed formulated without the use of soy. Non-GMO and unprocessed grains provide only the best nutrition!
Organic Turkey Feed
Soy free, whole grain turkey feed. This feed is professionally formulated to provide the perfect balance of nutrients for your growing turkeys! These grains are locally sourced from as close to home as possible.
Livestock, pets and farm animals
Taking care of your livestock, pets and farm animals is a 24/7 job. From filling their feeders, buckets, troughs, hay racks and water tubs to maintaining their coops, pens, paddocks, stalls, kennels and fields. We at Bay Hay and Feed will supply you with the feed and supplies your animals need. With over 1000 livestock items for you to choose from, we have field fencing and gates for larger animals, creep feeders for piglets to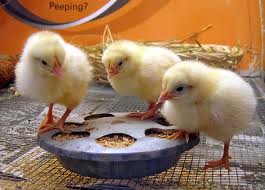 chicken coops for your backyard. We serve a variety of domestic animals, whether you are raising a specific breed or a barn full of mixed animals, you can be sure we will have the right items in stock for your home or farm. We have livestock necessities for almost all your animals' wellness and if we don't have it we will be happy to order it for you!
Baby Chicks
The first Baby chicks usually come in around January. We order more than 20 varieties, so if you are looking for a particular one, give us a call or come in to see what is peeping.  We have all the supplies you will need to start your flock and show you how to build a chicken coop that is safe from predators. Here is the 2023 Chick list.
Wild bird Seed
A wonderful thing to do is feed the birds in the winter time, especially when there is snow on the ground. Hang up a bird-feeder in front of the window and watch all the bird come to your feeder. You would be amazed how many varieties you will see. We have many different bird feeders in stock. The bird food most popular are black sunflowers, millet , suet and niger seed.
T-posts, gates and wire by the Roll or by the Foot! 
We stock many types of wire. From electric wire to field fence to rolls of poultry netting to welded and woven wire. The rolls come in many sizes and shapes. But did you know we cut wire by the foot for those jobs that just don't require full rolls (such as making volcanoes for the 4th graders)? We have gates in many sizes in stock and also T-posts to help build your fence.
Water tanks, troughs or tubs
Use these tanks, troughs, and tubs for livestock waterers and feeders, planters, wash tubs, cement and morter and many other applications. These are galvanized stock tanks, made up of high quality premium sheet metal in side walls and extra heavy galvanized steel bottoms that offers long term durability. Sizes run anywhere from 35 gallons to 390 gallons. . Our livestock tanks have rolled rims so the animals don't hurt themselves and drain plugs in the bottom for easy emptying so you can wash them or are easily tipped to drain.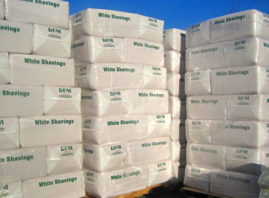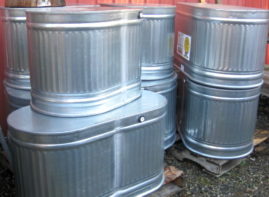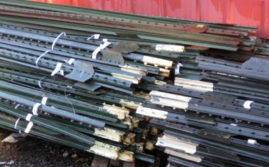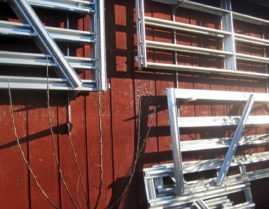 Wood shavings
Wood shavings absorb moisture and odors from a horse's waste between stall cleanings. They also increase the horse's comfort when he is confined to his stall. Even large box stalls offer little room for the horse to move around, and long periods of standing on hard ground can create stiffness in the horse's muscles and joints. When choosing wood shavings for a horse, consider the type of wood as well as its preparation. The most readily available wood shavings are made from pine or fir trees. These shavings cost less than other types of wood, and are sufficiently fragrant to help mask the stench created by urine and feces. Bay Hay and Feed carries fir shavings from