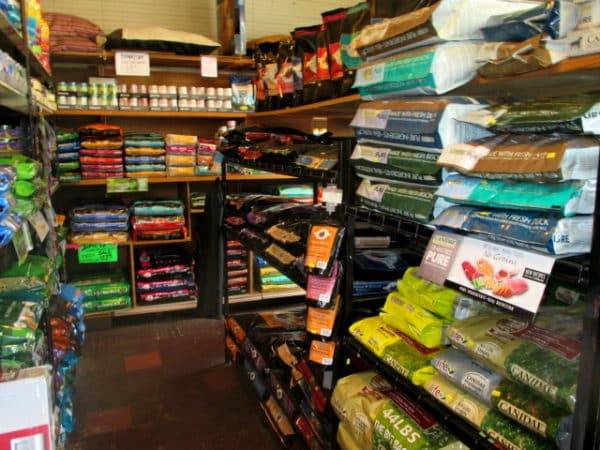 Dog food and supplies!
Come in or call us and you can pick it up or we deliver to you the same day if ordered before 2 pm!  We have many types of  dog foods in stock, for puppies, adult dogs or senior dogs. Choose from brands such as Fromm,  Acana, Natural Balance, Wellness, Canidae, Taste of the Wild, Diamond, Nutro, and Victor. Snacks and toys too!
Save money on Dogfood! Astro is our frequent buyer program!
Come into the store and ask for ASTRO loyalty today and sign up!
Wet - dry - frozen - Dog foods
Thirty years ago we decided premium cat and dog food made sense. Customers found their pets were satisfied with less food and took in more nutrients. Choices grew as customers requested more brands. Our weekly pet food deliveries mean frequent turnovers which means really fresh food on our shelves.
We have many types of  dog foods in stock; for puppies, adult dogs or senior dogs or small and large breed dogs. You can choose from brands such as Fromm, Natural Balance, Wellness, Canidae, Taste of the Wild, Stella and Chewy, Merrick, Victor, Acana, Northwest Naturals, Green Juju and Diamond . Plus lots of dog supplies!
Here are a few samples in our dog foods we carry:
A fish protein, grain-free formula with sweet potatoes provides highly digestible energy for your sensitive dog. Made with real smoked salmon, this formula offers a taste sensation like no other. Supplemented with fruits and vegetables, this fish and potato formula delivers natural antioxidants to help give your friend a healthy lifestyle.
WELLNESS: Wellness dog food formulas are free from meat by-products, animal fats, potential allergens like corn, soy and wheat as well as artificial colors, flavorings or preservatives. They use delicious, real foods like deboned meats, free of added hormones and steroids, wholesome grains, and fresh fruits and vegetables to provide the perfect balance of protein, energy, vitamins, minerals, and antioxidants in the healthiest way possible.
 Acana is committed to making the world's best food in the world's best kitchen. That means advancing their award-winning dog and cat foods with more fresh meat inclusions than any other dog or cat foods anywhere. Their mission represents a new standard in dog and cat foods, designed to nourish them in two ways. First, according to their natural evolution for a diet rich in meat and protein; Second, using ingredients that are sustainably raised, fished, and harvested by people we know and trust, and delivered to our kitchens FRESH or RAW.
      Stella and Chewy's believe that selecting the best food is one of the most important decisions an owner can make for their furry companion. Stella & Chewy's was built on the philosophy that pets thrive when they're fed the same diet they would find in the wild. They believe they deserve premium raw ingredients like grass-fed meat, cage-free poultry, wild-caught fish and organic fruits and vegetables.