Bay Hay and Feed was honored to receive the 2019 WA State business recycler of the year award from the Washington state Recycling Association!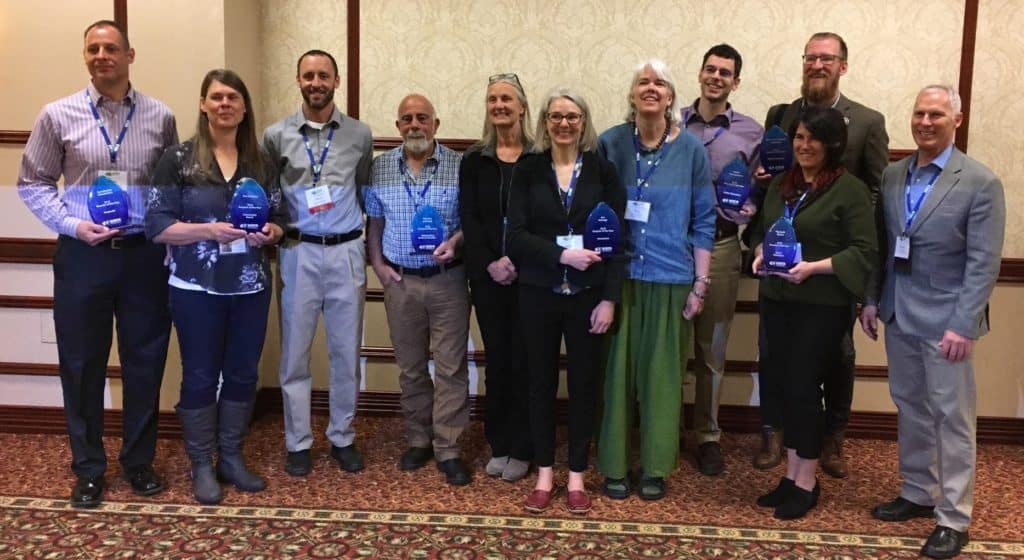 Sustainability in business: There are many things Bay Hay and Feed tries to complete every year to make the business more sustainable. See our list below.
Two Rain Gardens at Bay Hay and Feed
We installed an other rain garden on the Bay Hay and Feed property to take the rain water runoff from our buildings and parking lot and filter it so I will be clean by time it reaches the sound! This was done in collaboration between the Washington state department of ecology and the Kitsap conservation district.
Bay Hay and Feed made it to the  2011 Washington Green 50 list of the most sustainably operated companies and organizations in Washington State!
Seattle Business magazine announced the winners of the 2011 Green Washington Awards last night. Keynote speaker Ben Packard, Starbucks' vice president of global responsibility, challenged the Washington's business community to "take your sustainability efforts to a new level" to meet rising environmental challenges.
The goal of the Green Washington Awards is to identify and honor those companies that are demonstrating an extraordinary commitment to making their businesses sustainable. We see a day, not far in the future, when the world will assume that any business based in Washington must be operating with green principles in mind.
Preserving our history and nurturing our environment and community, providing jobs for  our staff and ourselves, is why Bay Hay is still going and growing after thirty years. We've always believed sustainability is important, but to practice it and live it require chewing on new ways of doing things, using our land and our time with care and efficiency while delighting in the fun of learning how to live that way. So, Bay Hay hired a sustainability director to keep us focused on this goal. We're reusing and recycling more than ever, paying for 100% green energy. We are composting and collecting water and we installed new solar panels on our roof. Our entire staff is on board and we're inviting our customers to learn along with us. Come take a look, grow some food and tell us how you think we're doing.
Our sustainability measures this far:

Hired a sustainability director 2010.
Installed solar panels on the roof 2011.
We started selling local food, such as eggs, cheese, produce, meat, chicken and added value items such as local honey and jam. Our goal is to help the Bainbridge Island farmers sell more produce and to increase their market share. We are doing this in partnership with Sound Food which is part of Sustainable Bainbridge.
 Purchasing 100% green energy
We are a collection point for Styrofoam for the island; our first collection in April 2011 yielded 2 vans full! Since then we have been collecting styrofoam 2x a year in January and July. We personally bring it to a company in Seattle. So far we have collected around 48 trucks full. Our next collection time will be in July 21-22 2018. Here is our truck on the ferry on its way to Seattle filled with Styrofoam. Another 1400 cubic feet that didn't go into the landfill!
We have been working with zero waste to help reduce our footprint and that of Bainbridge Island.
We take all the styrofoam that gets collected at the Rotary auction and bring it also to Seattle
We collect used x-mas trees stands at the Rotary Auction that we sell during December and the money collected goes to Helpline House.
We participated in Puget Sound Energy's Bulb Drive by bringing free compact fluorescent light (CFL) bulb recycling to Bay Hay for customers.
Composting all plant material and coffee grinds from the coffee shop
We encouraged our coffee shop to serve coffee in compostable cups and we compost them
We recycle all the paper for the post office in Rolling bay
We installed our first rain garden.
Collecting rain water for watering the nursery
We switched our lights to CFL over 10 years ago and now we are in the process of switching them over to LED's
We have been promoting organic growing for almost 40 years!
As of April 2017 our starting minimum wage for 18 and older is $13. Most of our employees are now above $15 and more. We offer our full-time employees health benefits and strive to give all our employees a living wage.
We try to buy products as locally as possible
We try to find and sell items that have recycled content.
If products have too much packaging, we consider not to sell them
We try to be aware of who we buy from
Collect wood from pallets and local contractors (Fairbanks mostly) and we give it to customers to build chicken coops
Started a vegetable garden on the back property.
We are a five star EnviroStar member
We were a WOW (wiping out waste) sponsor to bring recycling/garbage containers to Winslow Way.
Recycling all our cardboard/paper/glass/cans
All year we cut all our cardboard boxes in half and use them as nursery trays.Rather than buying new ones.
Collecting plastic wrap and recycling it.
We reduced our waste by 50%
We held  "map your neighborhood" classes to get Bainbridge Island emergency ready
Education: encourage our nursery employees to take horticulture classes
Ordered and had installed a pet waste station for Rolling bay so people can pick up their pet waste easier.
We updated the heating system in our Gift room and Hoadley house to a more energy efficient one in 2014
Held a Kids 4 day Camp on running a sustainable business in July 2014.
Started a beehive in April 2014, which one of our employees as taken over and has them in her yard in Rollingbay
In 2014 we pledged that we do not spray with neonicotinoid insecticides in our nursery and that we do not sell insecticides containing neonicotinoids either.
As of 2018 we are still collecting Styrofoam 2x times a year with the help of Zero Waste. Styrofoam is brought to Seattle to be transformed into new products rather then ending up in the land fill!
 In 2016, 2 members of our team are taking bee classes to become Master bee keepers.
In 2016 we started a profit sharing program for our employees. We share this profit with our employees every month that we have a profit.
We installed our second rain garden
In 2018 we tripled our local food market space and added more freezers and refrigerators so we could offer more local food.
In 2018 we now give sick time and vacation time.
Our sustainability measures that we are currently working on:
Becoming a  Red Cross warming emergency station
Reduce our water consumption
Increase purchasing 100% green power for all our buildings
Reduce electricity consumption for all buildings
Getting electric trucks for deliveries
Creating a carpool system for our employees