Timothy, Orchard grass, Alfalfa and Straw
Besides feed, we carry 4 types of Hay in our Barn. Alfalfa, Timothy, Orchard grass and Straw. You can buy it buy the bale or in larger quantity. You can pick it up or we can also deliver it too you!
Haystack Farm and Feeds
Haystack Farm and Feeds produces Special Blend Horse Pellets, Haystack Horse Treats, Timothy Pellets, Orchard Grass Pellets and a multitude of other high quality feeds. They are a locally owned and operated company that focuses on producing quality feeds for a reasonable price that meets everyone's needs.  To produce their famous Special Blend Pellets, Haystack Horse Treats, alfalfa pellets, horse, chicken, goat, rabbit and hog feeds, they use locally grown products when ever possible as they believe in supporting local farmers. They also farm approximately  900 acres of land which helps them to maintain the best quality possible.

Purina Feed
At Purina Animal Nutrition, they don't use the term quality control because to them, that implies after-the-fact testing. What Purina practice is quality assurance. That means their experts use a progressive, preventive, quality systems approach to help ensure their products provide the best possible nutrition and performance every day. And that's how Purina has done things for generations.
Quality assurance starts at the beginning of the process with approved suppliers who meet their requirements. And it means they don't cut corners. Purina continually work to improve what they make. And how they make it. Purina also has countless quality checks throughout the supply chain. Purina proactively test and measure many raw ingredients and formulations to make sure they're both safe and nutritionally accurate.
Scratch and Peck Feed
Scratch and Peck manufacture Organic Chicken Feed, Organic Turkey Feed, Organic Pig Feed, Organic Goat Feed, and more! All of their feeds are soy free and canola free, while their Naturally Free line of products are also corn free. Scratch and Peck feeds are completely raw with our limited processing technique. They source grains organically grown and we mill to order in the Pacific Northwest. When you use their feed, you can rest assured that you are protecting your animals, your family and your health, because "you are what your animals eat!"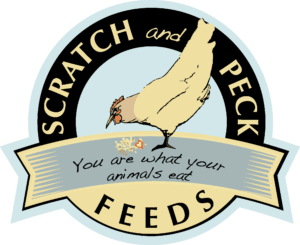 T-posts, gates and wire by the roll or by the foot!

We stock many types of wire. From electric wire to field fence to rolls of poultry netting to welded and woven wire. The rolls come in many sizes and shapes. But did you know we cut wire by the foot for those jobs that just don't require full rolls (such as making volcanoes for the 4th graders)? We have gates in many sizes in stock and also T-posts to help build your fence.
Wild Bird Seed
A wonderful thing to do is feed the birds in the winter time, especially when there is snow on the ground. Hang up a birdfeeder in front of the window and watch all the bird come to your feeder. You would be amazed how many varieties you will see. We have many different bird feeders in stock. The bird food most popular are black sunflowers, millet , suet and niger seed. Below is a fun project to do with the kids during winter break Creating wildlife feeders with the kids
Storm Supplies

Get ready for when the power goes out. Bay Hay and Feed has many items in stock to keep you warm and dry. Such as Aladdin Lamps, propane, flashlights, warm clothing and boots, hats and scarfs,  kerosene, and for the fun part we sell sleds also.
Keep the animals warm!
Make sure you have straw, shavings or  hay on at hand when there is snow to keep your animals warm and fed. We also have stock tank heaters to make sure the water does not freeze.