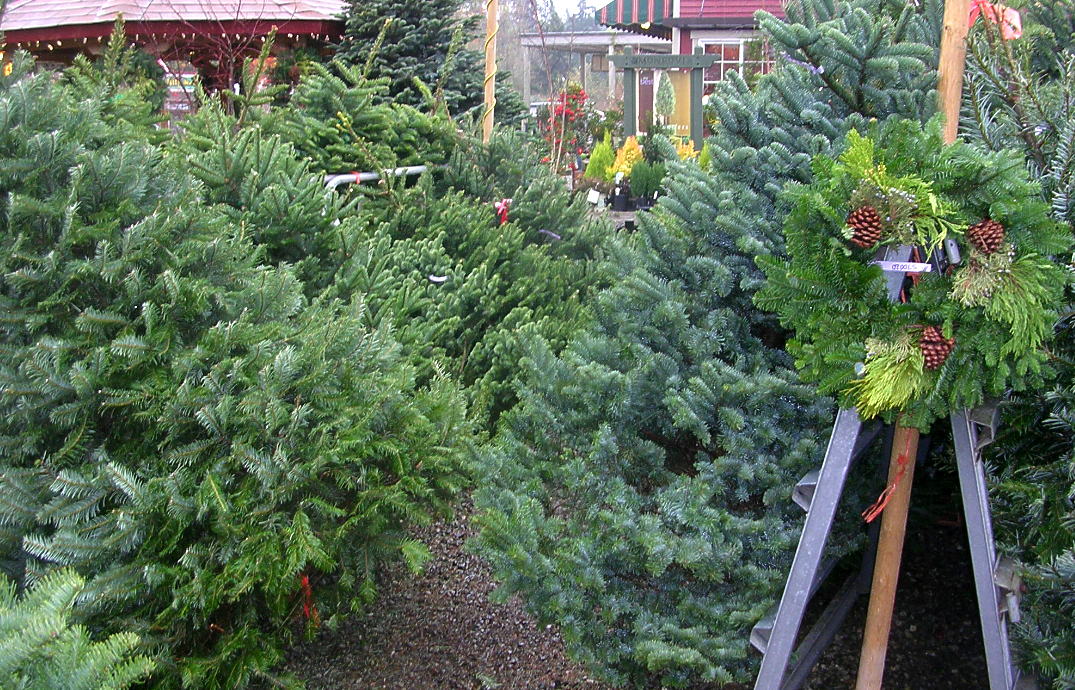 Cut Christmas trees will be here on the 19th of November!
This Christmas come to Bay Hay and Feed for a huge selection of freshly cut Christmas trees. Our Christmas trees will be here a week of Thanksgiving. Your entire family will enjoy searching for the 'perfect tree'. Beautiful, well-formed trees are grouped by height and type and displayed so they can be viewed easily.
Our staff will attentively help you select and get your tree loaded up to your car, so you can take it home for the holidays.  For a small fee we will deliver on Bainbridge Island. This personalized care is guaranteed to keep your holiday spirits cheery and bright! We will cut the trunk for you, so the tree can absorb water better, make sure you put the tree in water as soon as you come home!  Remove unneeded lower branches right before you put it in the stand. Water the tree daily while it is in your house which will slow down the needle dropping.
Live Christmas trees
Celebrate the holidays with a living Christmas tree and continue enjoying it for years. You'll discover a good selection of live trees at Bay Hay and Feed, from native varieties to trees from around the world. Enjoy your living tree indoors during the week of Christmas, then plant it in the landscape or in an outdoor container after the holidays. Special care must be taken with living trees to make sure they survive indoors. Ask our staff to learn how to keep your tree healthy enough to plant after Christmas.
Wreaths and Garland
Nothing helps set the Holiday Mood more quickly than the smell of pine, a scent that's hard-wired together with fond memories. Bay Hay and Feed' greenery arrangements for the holidays are made from seasonal materials such as noble fir, incense cedar, and pinecones. 'Tis the season to decorate for the Holidays! Give your doors, your windows, your table, and your mantle the 'Royal Treatment.' Come explore  the huge selection of Christmas table cloths, ornaments, everlasting garlands and sprays, gifts for loved ones, and much more.
Pointsetta's
These will come in the week of Thanksgiving. Years ago poinsettias only came in red, but breeders have now developed over 100 varieties in different colors, shapes, and sizes. They're also a lot easier to grow. Contrary to the common myth, poinsettias are not poisonous and never have been. So don't worry about enjoying these gorgeous plants in your home.  The colorful part of the plant is a special leaf known as a bract. The actual flowers are inconspicuous little yellow pods at the center of each cluster of bracts.  Poinsettias are tropical plants native to Central America, where they can grow as tall as trees.
Points to Help Your Poinsettia stay healthy:
Select a plant with dense, vigorous dark green leaves and stiff stems
Protect from cold below 50°F when taking plants home
Position in a sunny location away from cold windows or drafts
Avoid heater vents because air above 70°F can fade bracts
Water only when the soil surface begins to dry
Avoid soggy soil that leads to root rot; never let plant sit in water
Remove outer foil or poke drainage holes to avoid wet feet
Fertilize every 2–3 weeks so the bracts stay colorful through spring