Farm Kitchen breads, pastries, cookies plus Hollis' whole grain pullaparts!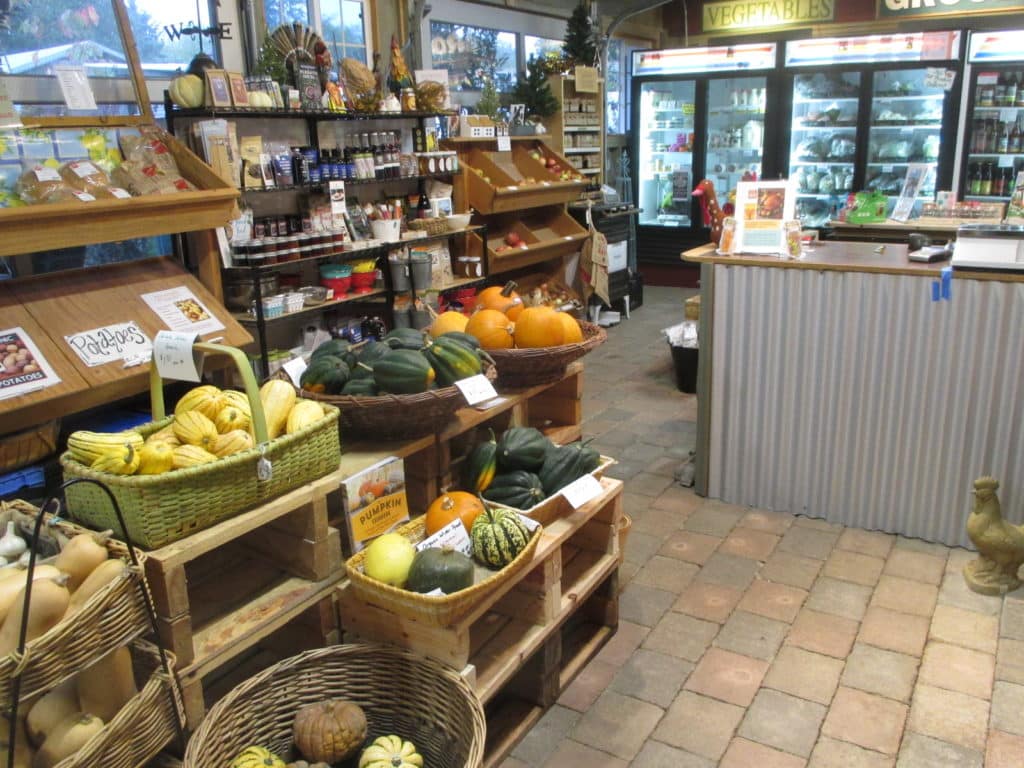 We expanded our Market!
Come visit our newly expanded market. We will be bringing in lots of new items. New items such as Girl Meets Dirt. New in The Market at Bay Hay, Girl Meets Dirt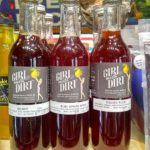 is made on Orcas Island. These sweetened drinking vinegars are based on a colonial recipe to preserve fruit syrup. The sweet and pleasingly tart concoctions are perfect with seltzer, or splashed with your liquor of choice. Perfect for the home mixologist or anyone who likes a little complexity in their beverages.
Local Organic Food!
Fresh Local organic food from Bainbridge, such as Produce, Milk, Eggs, Cheese, Pork, Beef, Chicken and Bread are available everyday at Bay Hay and feed! Create and pick up dinner! Now you can pick up a bag of Island-grown vegetables, half and half, a dozen eggs, some fresh chevre, meat or chicken any day of the week at Bay Hay and Feed. Have some local wine from Rollingbay Winery or Bainbridge Vineyard with some smoke salmon from Crimson Cove. The coolers and freezer behind the old nursery section is stocked with locally-grown food.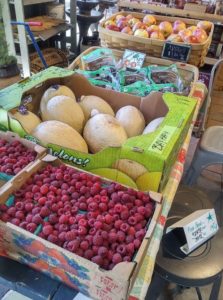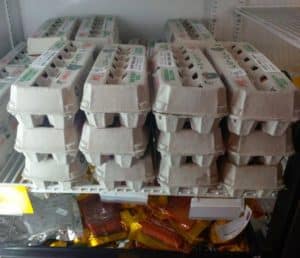 Farm Fresh Eggs!
The coolers and freezer are stocked with locally-grown food.Several varieties of Mt Townsend creamery cheeses are available. Salmon from Crimson Cove and Chicken eggs from many farms,  as well as the veggies from Butler Green Farm , Persephone Farm , Tani Creek Farm, Farm House Organics and  Laughing Crow Farm. The availability of the produce changes with the season because everything comes from local producers, so we will not have tomatoes in the winter!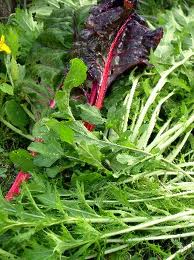 Finnriver
Finnriver farmcrafts a range of traditional, contemporary and seasonal ciders made primarily from organic Washington fruit, along with a line-up of spirited fruit wines. They also grow an organic orchard of traditional cider apples on a historic dairy in the Chimacum Valley. While their farm is remote, they are honored to be on the forefront of the Pacific Northwest cider revival. They are committed to fermenting a vision of good land, renewed rural community and a vibrant food culture.


At Eleven Winery, They are all about making great wine, and making it fun! They believe the better the wine, the more fun you'll have. They produce a wide range of wines, something for every palate. Located on Bainbridge Island, they are a bit out of the mainstream, but are a part of a small community of winemakers who are making waves across the state. Visit their tasting room near the ferry terminal any time, or tour their winery on the weekend. Or come into Bay Hay and purchase a bottle!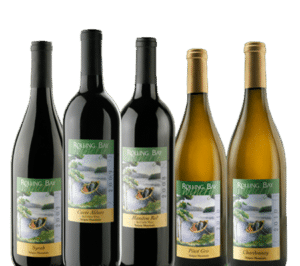 Rolling Bay Winery
They are a small artisan winery located on beautiful Bainbridge Island in Washington State.They specialize in creating limited quantities of hand crafted premium wine from grapes  grown on Snipes Mountain, one of Washington State's newest AVAs and oldest vineyards. Since going pro, the combination of Newhouse grapes and the de Klerk wine making skills have consistently made some of Washington's most impressive new wines. The 1,100 cases that Rolling Bay Winery produces are totally dedicated to the handcrafted quality that's only possible with a small winery. That quality has been rewarded with recognition including gold, silver and bronze medal awards, and inclusion on Seattle Magazine's list of the "10 Best New Washington Wines" in 2012.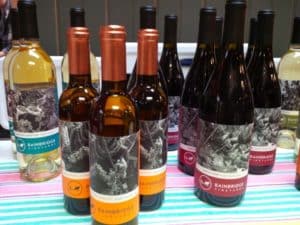 Bainbridge Vineyards
Bainbridge Vineyards creates wine from the ground up, producing uncommonly good wine with an authentic Island heritage. Betsey Wittick, a long time Island farmer, purchased the Vineyards last year. Since then she has built a talented team of young vineyard workers, each of whom has an ownership share in the company. Together they have created a selection of premium wines, hand-crafted from grapes grown on Bainbridge Island. Bay Hay and Feed is proud to be the first retail outlet for Bainbridge Vineyards' new wines. The vineyards were certified organic in 2014, and since then, we have started learning and applying biodynamic practices, as well.  We believe in a "whole systems" approach.  Everything on our farm is connected, from the animals we use to work the land, to the people we employ, and the communities around us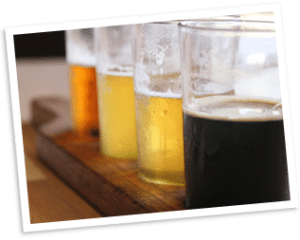 Bainbridge Brewery
Making a great beer requires a combination of art and science.  Science, in knowing what the gear and the ingredients can do.  Art, in imagining what beer can be.  Whether it's excellent versions of classic styles, or boundary pushing experimental brews, we strive to blend the art and science of beer. But beer is also a social beverage.  The pub is part of our culture, and here in the Northwest that means locally brewed craft beer.  The local brewery is part of the fabric of the community, giving it character, individuality, and indeed, an air of hometown pride.  Bainbridge Island is certainly a great place to live, but it's been lacking one thing: our own craft microbrewery.  Well, no longer!  Bainbridge Island Brewing is the island's brewery, and the island is as much a part of us as we are of it.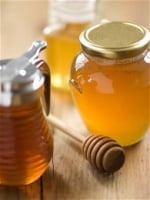 Sweetlife Farm
Sweetlife farm brings us jam, honey, salts, vinegar and soaps. Whether food for the table or products to share with others, growing, cooking, and creating things from whole, natural ingredients entertains, engages and sustains Nancy and Bob Fortner who, in their 7th and 8th decade of life, choose to embrace retirement as one more active phase.Refugees of health care careers, the Fortners share a lifelong passion about food and pursue interwoven values of hard work, growing food, eating well and expanding their table to include family and friends.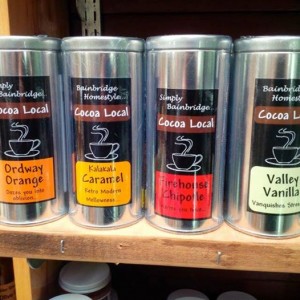 Pane d'Amore Bread
A small-town bakery dedicated to baking organic bread using the very best ingredients, Pane (bread) d"Amore (of love) delivers fresh bread every day to Bay Hay and Feed. Established in 2003 by Frank d'Amore and Linda Yakush, the bakery is based in Port Townsend, Washington. Frank started baking when he was 18, and Linda baked from a very young age. Using an oven from France and a mixer from Italy they shaped and perfected their formulas and techniques.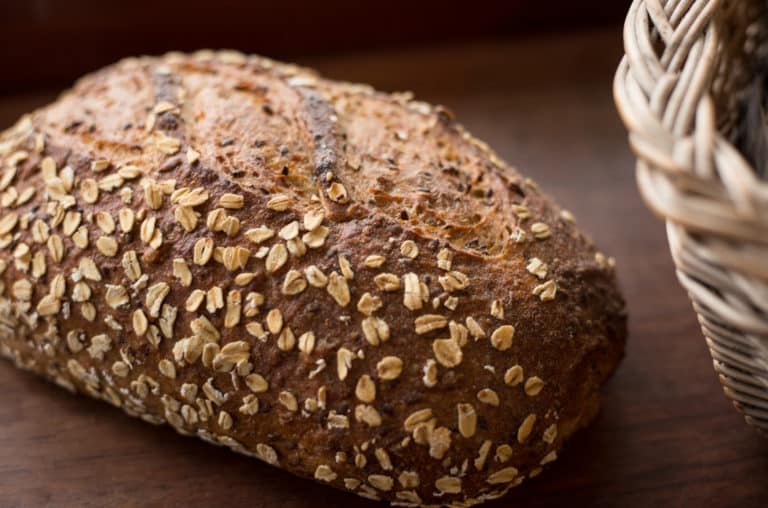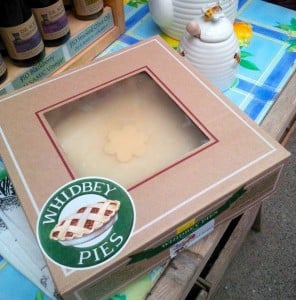 Whidbey Pies and Lopez Creamery
New in The Market at Bay Hay: pies from Whidbey Pies Cafe. Bake them at home for a taste of summer goodness. Find 'em in the freezer, along with ice cream from Lopez Island Creamery to put on top!